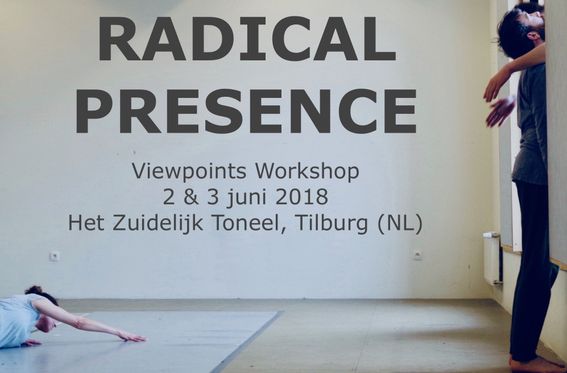 About the workshop
Originated by dancer/choreographer, Mary Overlie; The Viewpoints deconstruct the materials used in performance: space, time, shape, emotion, story, and movement, opening up their infinite possibilities. Improvisations and experimentation with these materials will place us in the present moment, listening and interacting spontaneously with our whole selves within a group. Mary Overlie's theory of the original anarchist will be discussed and practiced as a principle of care and co-existence.
Who
We invite all professional dancers, actors, theatre makers, choreographers, visual artists, performers AND students. All sessions will be led by Deborah Black, Arjan Gebraad & Roel Swanenberg (more info below).
When 
Weekend 2-3 June 2018, from 10h00 to 18h00
Where
Het Zuidelijk Toneel, Ringbaan Oost 8-15, Tilburg, The Netherlands
Price
Regular: € 100,-
Early bird discount: € 80,- (apply before Sunday May 20th)
Students: € 50,- (student card required)
How to apply
Send a email to info@kinderenvandevilla.com
Feel free to share this message and we hope to see you soon!
About the training
Viewpoints are to an actor what finger work is for a pianist, or the barre for a dancer. It is a improvisational physical training practice, developed from post-modern dance (Mary Overlie) and adapted for a theatrical approach by Anne Bogart and SITI Company. The Viewpoints allows a group of actors to function together spontaneously and intuitively and to generate bold theatrical work quickly. It develops flexibility, articulation, and strength in movement and makes ensemble work really possible.  
What people are saying about Deborah, Radical Presence and the Viewpoints.
"Deborah is deeply committed to the material and brings that connection to the workshop. She teaches with clarity and sensitivity and presents the material in way that is accessible for all types/backgrounds. I was challenged and inspired by the process and left feeling a deeper awareness in my body and lightness in spirit." -- Maryanne Cheney, dancer and choreographer
"Deborah's weekend introduction to Viewpoints was excellent. Her insights were both fascinating and helpful. As a facilitator, she created a calm yet encouraging atmosphere. I felt comfortable and inspired to explore and experiment!" -- Terra Vandergraw, theatre teacher
Deborah Black is a multi-disciplined embodied artist and teacher. She has trained with both Mary Overlie and SITI Company.
From 2013-2016 she was based in Europe teaching The Viewpoints at the Fontys Hogeschool voor de Kunsten in Tilburg (NL) as well as workshops in Holland, France, Germany, Belgium, and the UK. While previously living in NYC for nearly 15 years and working with Deborah Hay, Siobhán Cronin, Joe Williams, and the SITI Company, she began her current research of collective and individual daily practices, conflict management, the space between dance and theatre, and ecology. She has a BFA in dance from NYU's Tisch School of the Arts.
Arjan Gebraad is a Dutch director, actor, teacher and dramaturg. He works as a freelance theatre maker with both professionals and amateurs and has performed with several companies for all kind of shows, festivals, art installations and site-specific projects. 
Graduated as theatre director at the Theatre academy of Maastricht, he trained with SITI Company in New York, Paris, Wales, Madrid, The Netherlands and with Mary Overlie at the Rose Bruford College in her first ever UK workshop. He teaches physical theatre, Viewpoints, composition, Suzuki-based acting training and ensemble training.
He has collaborated many times with Roel Swanenberg and Deborah Black both in teaching and performing. Together with Black he facilitates workshops for the Rotterdam Viewpoint Training group.
Roel Swanenberg was born in the Netherlands, but spent most of his life in Belgium. He graduated as Master in the Audiovisual Arts at the KHLim in Genk.  He obtained his teaching diploma and then graduated as an actor at the Maastricht Theater Academy (NL). He trained with SITI Company in New York, Paris and the Netherlands and with Teatr Novogo Fronta (CZ)
Together with Wanda Eyckerman he founded ''kinderenvandevilla' to support their artistic projects, including: performances for young and old in theaters and site-specific, but also facilitating workshops, coaching and free work.
Currently he's teaching 'directing actors' to film students at his Alma Mater and he tours internationally with the solo-piece 'Leeghoofd' (Tuning People / kinderenvandevilla)
In 2017, he directed the play 'Lampenmakers' a play about PHILIPS (Het Zuidelijk Toneel & Parktheater Eindhoven). He also works as a freelance actor for theater, TV & film and teaches directing actors at the LUCA School of Arts. And since 2013 he plays the performance 'Leeghoofd' throughout Europe (Tuning People & kinderenvandevilla). In the summer of 2018, the 300th performance is scheduled.