STILL A FEW SPOTS LEFT
APPLICATION DEADLINE EXTENDED TO WEDNESDAY JUNE 1st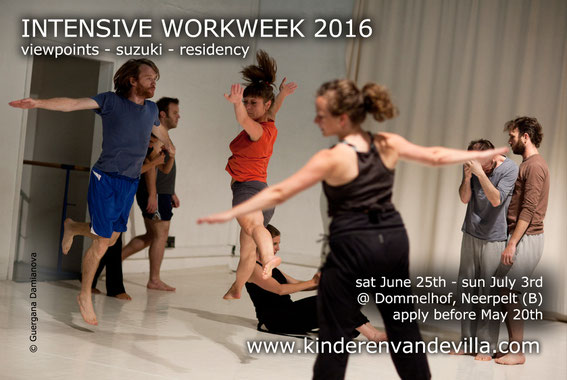 "An inspiring and fruitful week in which profound shifts are possible. The facilitators created an inspiring, safe and focused environment. The nature of the training combined with collaborative project work enabled cross disciplinary stimulus, challenge, failure, experimentation and growth.
A truly nourishing week."
Helen Tennison, Freelance Director & Co-Artistic Director Drama Studio London
For the fifth time, a group of theatre makers/performers return to the Dommelhof in Neerpelt to introduce training, facilitate collaborative research projects proposed by the participants, and share their vision on the importance of coming together as artists. During this week there are sessions of Viewpoints and Suzuki-based training. 
Viewpoints
Viewpoints are to an actor what finger work is for a pianist, or the barre for a dancer. It is a improvisational physical training practice, developed from post-modern dance (Mary Overlie) and adapted for a theatrical approach by Anne Bogart and SITI Company.The Viewpoints allows a group of actors to function together spontaneously and intuitively and to generate bold theatrical work quickly. It develops flexibility, articulation, and strength in movement and makes ensemble playing really possible. (from http://www.siti.org)
Suzuki-based training
Developed by internationally acclaimed director Tadashi Suzuki and the Suzuki Company of Toga, the Suzuki Method's principal concern is with restoring the wholeness of the human body to the theatrical context and uncovering the actor's innate expressive abilities. A rigorous physical discipline drawn from such diverse influences as ballet, traditional Japanese and Greek theater, and martial arts, the training seeks to heighten the actor's emotional and physical power and commitment to each moment on the stage. Attention is on the lower body and a vocabulary of footwork, sharpening the actor's breath control and concentration.
Residency
Besides facilitating Viewpoints and Suzuki-based training, there is also the opportunity to research, create or rehearse your own work or collaborate with others. The Dommelhof has many spaces to work: a theatre, a black-box, a dance studio and many smaller meeting rooms. If the weather allows you can also work outside. The eating and sleeping facilities are next to the workspaces, so no transport needed.
Schedule
There will be training sessions in the morning and the early afternoon. The late afternoon and evenings are for you own work. There will also be group sessions on feedback, in between showings and an excursion. 
Trainers
Deborah Black (dancer/choreographer, USA).
Arjan Gebraad (theatremaker/actor, NL)
Roel Swanenberg (theatremaker/actor, B)
For more info about them: click here
Practical info
Start: Saturday June 25th at 13h00
End: Sunday July 3rd at 12h00
Place: Provinciaal Domein Dommelhof, Toekomstlaan 5, 3910 Neerpelt (B)
Price: €400,- (accommodation and meals included)

You have to be working as a theatre professional to be able to apply.(dancer/choreographer/actor/director/performer/singer)
Due to the international character of this event, all communication is in English. If you have any questions, don't hesitate to contact us.
How to apply: click here