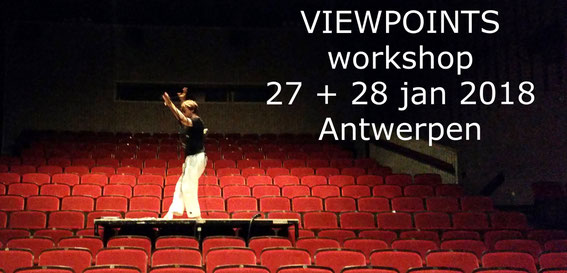 On Saturday and Sunday Roel and Arjan will host a weekend at MATTERHORN in Antwerp. We will work from 10.00 to 17.30.
We invite all professional dancers, actors, theatre makers, choreographers, visual artists, performers AND students to come and train with us. We will go deeper into Marie Overlie's and SITI Company's work and will guide open sessions to train the viewpoints.
The price for two days is 80 Euros, one day is 50 Euros, students pay 50 for two days and 35 for one (student card required).
All sessions will be led by Arjan Gebraad and Roel Swanenberg, who have both trained with SITI-company numerous times.
If you want to apply or have any questions, please send an email to info@kinderenvandevilla.com
Feel free to share this message and we hope to see you in January!
Viewpoints are to an actor what finger work is for a pianist, or the barre for a dancer. It is a improvisational physical training practice, developed from post-modern dance (Mary Overlie) and adapted for a theatrical approach by Anne Bogart and SITI Company.The Viewpoints allows a group of actors to function together spontaneously and intuitively and to generate bold theatrical work quickly. It develops flexibility, articulation, and strength in movement and makes ensemble playing really possible.
Roel Swanenberg was born in the Netherlands, but spent most of his life in Belgium. He graduated as: actor at the Theatre academy of Maastricht (NL), master in the audiovisual arts at the KHLim in Genk (B) and he's also a graduated teacher. He trained with SITI Company in New York, Paris and the Netherlands and with the ViewpointLAB (NL).
Together with Wanda Eyckerman he founded 'kinderenvandevilla', to support their artistic projects, which include: site-specific plays, black-box theatre, facilitating training, coaching and teaching. 
Currently he's teaching 'directing actors' to film students at his Alma Mater, he's creating a site-specific play with a boat and he tours internationally with the solo-piece 'Leeghoofd' (Tuning People / kinderenvandevilla)
Arjan Gebraad is a Dutch director, actor, teacher and dramaturg. He works as a freelance theatre maker with both professionals and amateurs and has performed with several companies for all kind of shows, festivals, art installations and site-specific projects. 
Graduated as theatre director at the Theatre academy of Maastricht, he trained with SITI Company and ViewpointLAB. He teaches physical theatre, Viewpoints, composition, Suzuki-based acting training and ensemble training.
He has collaborated many times with Roel Swanenberg and Deborah Black both in teaching and performing. Together with Black he facilitates workshops for the Rotterdam Viewpoint Training group.